Tuesday January 31 2023 • 12:00 PM — 01:00 PM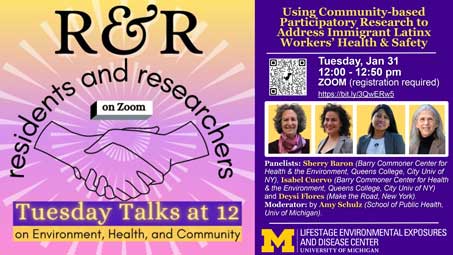 Residents & Researchers:

"Using Community-based Participatory Research to Address Immigrant Latinx Workers' Health & Safety"

With Deysi Flores (Civil Rights & Immigration Lead, Make the Road, New York), Isabel Cuervo (Sr. Research Associate, Center for Health & the Environment, City University of NY) and Sherry Baron (Professor, Environmental & Occupational Health, CUNY Graduate School of Public Health & Health Policy). Moderator: Amy Schulz (University of Michigan School of Public Health).

Join us online: Registration is required.

Sponsored by: Michigan Center on Lifestage Environmental Exposures and Disease (M-LEEaD) Community Engagement Core + Integrated Health Sciences Core
Tuesday February 21 2023 • 12:00 PM — 01:00 PM
Residents & Researchers:

"Advancing Environmental Health and Justice: A Call for Assessment and Oversight of Health Care Waste"

With Vincent Martin (Detroit environmetal activist and consultant), Omega Wilson (West End Revitalization Association (WERA)) and Denise Patel.

Join us online: Registration is required.

Sponsored by: Michigan Center on Lifestage Environmental Exposures and Disease (M-LEEaD) Community Engagement Core + Integrated Health Sciences Core
Wednesday February 22 2023 • 05:00 PM — 07:00 PM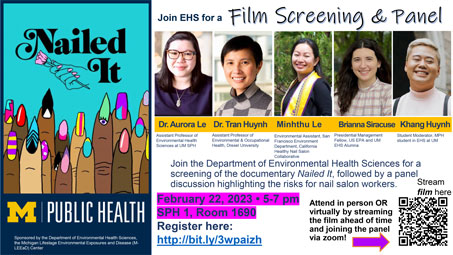 EHS Film and Panel Discussion: "Nailed It"
With Dr. Aurora Le (Assistant Professor of Environmental Health Sciences, University of Michigan), Dr. Tran Huynh (Assistant Professor of Environmental & Occupational Health, Drexel University), Minthu Le (Environmental Assistant, San Francisco Environment Department, California Healthy Nail Salon Collaborative), Brianna Siracuse (Presidential Management Fellow, United States Environmental Protection Agency), Khang Huynh (Student Moderator, MPH student in EHS, University of Michigan)
The Environmental Health Sciences department is hosting a special streaming event of the PBS film "Nailed It" (see trailer here), a documentary that highlights the health risks for nail salon workers and the disproportionate burden of these health risks on Vietnamese immigrants who make up a large proportion of nail salon owners and workers. The event is from 5-7 PM Eastern Time, starting with an in-person film screening and then followed by a hybrid panel discussion.
Attendees are welcome to join in-person at 5 PM for a live screening of the film,"Nailed It" and refreshments (location: U-M School of Public Health Building I, room 1690). Panel discussion with researchers and practitioners who collaborate with nail salon workers will follow at approximately 6 PM. Zoom attendees are encouraged to watch the movie in advance and join the Zoom webinar link at 6 PM to hear panel discussion.
The film is available to stream for no charge with a U-M login .
All members of the EHS department (students, staff, faculty), and prospective students, are welcome to both screen the film and attend the panel discussion! Light refreshments will be provided.
Location: UM School of Public Health Building I, room 1690
Registration is required: Register via Zoom for both online and in-person attendance.
Sponsored by: Environmental Health Sciences (EHS) and Michigan Center on Lifestage Environmental Exposures and Disease (M-LEEaD) at the UM School of Public Health