Current center scientists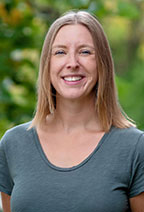 See all center scientists
The Michigan Center on Lifestage Environmental Exposures and Disease (M-LEEaD) provides research support for training and mentorship of early stage investigators. These resources target investigators with specific skill sets that are consistent with the Center's stated mission of promoting new translational research using novel multi-disciplinary approaches to better understand the impact of early environmental exposures on adult diseases.
During the Center's initial year, one of our first Career Development activities was the appointment of Almudena Veiga-Lopez, DVM, PhD as Center Scientist. Dr. Veiga-Lopez became a Research Investigator with Vasantha Padmanabhan, PhD, leader of our Endocrine Disruptors Research Team. Her research was centered on understanding the fetal origin of pubertal and adult reproductive and metabolic disorders as well as the impact of native steroids in programming such defects. She is now an assistant professor at Michigan State University. Subsequently, Kelly Ferguson, PhD, and Jackie Goodrich, PhD, were appointed as Center Scientists, working with John Meeker, PhD, and with Dana Dolinoy, PhD, respectively. Kelly focused on environmental influences on low-birth weight outcomes and Jackie on metal exposures. Kelly is now a staff scientist at NIEHS in North Carolina.
Since renewal in 2016, we have selected Deborah Watkins, PhD and Lada Koneva, PhD as center scientists working with John Meeker and Maureen Sartor, respectively. Besides additional recourses and mentoring, center scientists establish a relationship with one of the M-LEEaD cores outside of their primary research area.
Under the renewal, the Career Development Program Leader Gil Omenn continues to mentor early career investigators. In this past year Dr. Omenn worked with assistant professors Justin Colacino and Sue Hammoud as key investigators on a major proposal to the UM Data Science Institute for single-cell analyses of cancers and spermatogenesis; this proposal has been funded at $1.25M over 3 years. Jackie Goodrich is pursuing a resubmission of a proposal to NIOSH about metal exposures in foundry workers in collaboration with NIEHS-funded colleagues at Syracuse University and SUNY-Oswego.
Dr. Omenn, together with Dr. Cote of the EHS CC at Wayne State University, organized their fourth joint networking workshop for Early Career Stage Investigators on May 06, 2019 in Ann Arbor, with excellent participation from both institutions. This meeting addressed a variety of challenges facing assistant professors in starting up their own labs or research teams. One of the highlights of this meeting was a talk from Sue Hammoud, PhD (Assistant Professor of Human Genetics, Obstetrics and Gynecology, and Urology), who set the tone with her insightful and entertaining keynote presentation, providing a wide range of advice including tips on managing and mentoring students on your research team both individually and in weekly lab meetings. This meeting featured panelists from both institutions who discussed topics on Recruiting and Managing People, Physical Resources (the laboratory, computer systems, cores), and Competing for a Ladder of Funding. The first joint Investigator Networking Workshop for early career stage investigators was held on October 6, 2016 in Detroit. Seven new early career stage investigators joined our center: Carina Gronlund Research Assist. Prof. Institute for Social Research, Sue Hammoud, Asst. Prof. Human Genetics and Urology, David Bridges, Assist. Prof. Nutritional Sciences, and Young Ah Seo, Assist. Prof. Nutritional Sciences, as full members; and Kelly Bakulski, Research Assist. Prof. Epidemiology, and Trish Koman, Research Investigator of Environmental Health Sciences, Laurie Svoboda Research Assist. Prof. Environmental Health Sciences, as associate members.
New enhancements to the career development program include increased opportunities to foster development of technical skills and collaborations with center members. Current initiatives include:
Increased recruitment of new investigators
Encouragement to utilize M-LEEaD Cores and participate in workshops and seminars
Customized mentorship of junior faculty/trainees, with grant preparation guidance from core leadership
Partnership with existing centers and campus resources relevant to the Center's mission, including co-sponsorship of seminars and symposia
Archiving and reporting mentor/mentee "success stories" of career guidance, manuscript co-authorship, grants, etc
Development of a "pipeline" program that encourages scientific enrichment activities spanning K-12 education through post-doctoral study
Center sponsorship of selected workshops and training opportunities