From PBB to PFAS:
Research and Action to Address Michigan's Large-Scale Chemical Contaminations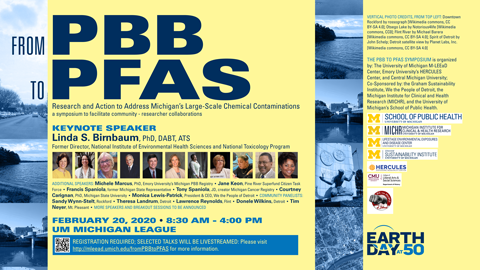 DATE + TIME:

February 20, 2020 • 8:30am – 4:00pm

PARKING:

Click here for parking options

NOTE:

All sessions will take place in the Vandenberg Room (Second Floor) unless otherwise noted
Highlights
Click here to view the complete schedule
Keynote address by Linda S. Birnbaum, PhD, DABT, ATS (Director (retired), Scientist Emeritus, National Institute of Environmental Health Sciences and National Toxicology Program):

"The Challenges of PFAS" Dr. Birnbaum will review what is known about the health effects of PFAS (human and animal) and the similarities with PBB. She will describe the extent of exposure to PFAS and the value of community engaged research. (Keynote will be live-streamed and recorded for later viewing.)

Presentations by community residents and academic researchers working on PBB and PFAS health impacts, as well as breakout groups focused on strategies for building effective community-academic collaborations:

Michele Marcus, PhD (Emory University's Michigan PBB Registry)
Jane Keon (Pine River Superfund Citizen Task Force)
Francis Spaniola (former Michigan State Representative)
Tony Spaniola, JD (creator Michigan Cancer Registry)
Courtney Carignan, PhD (Michigan State University)
Monica Lewis-Patrick (President & CEO, We the People of Detroit)
COMMUNITY PANELISTS: Sandy Wynn-Stelt (Rockford); Theresa Landrum (Detroit); Lawrence Reynolds (Flint); Donele Wilkins (Detroit); Tim Neyer (Mt. Pleasant).
The PBB to PFAS symposium is organized by: The University of Michigan M-LEEaD Center, Emory University's HERCULES Center, and Central Michigan University